Professional DVR Series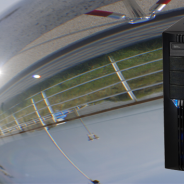 Biyn Professional DVRs provide excellent reliability and the best capability you will find in a digital video recorder for CCTV applications in its price class. Featuring an Intel i5 or i7 processor (two-way processing), 450W power supply, gigabit ethernet port, and large hard drives, our Professional surveillance DVR units are intended for small businesses who have constrained budgets but which demand high capability.
Also, unlike many other makes of DVRs, our DVR systems can display live monitoring at resolutions up to 1920×1200. Viewing a matrix of 16 cameras simultaneously at 1920×1200 provides a clearer and more detailed view of each camera compared to most other DVRs which are limited to 640×480 or 1024×768 monitoring.
Professional DVR Environments:
Convenience stores
Small businesses / offices
Non-profit organizations
Churches
Daycare facilities
Residences
Professional DVR Features
Biyn Professional DVR Features
450W power supply
"Watchdog" monitoring system
Quiet operation ( <45dBA)
Point-of-sales integration
All the same advanced DVR functions present in our commercial DVR systems