Industrial DVR Series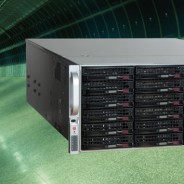 Maximum Performance, Maximum Reliability
Biyn Industrial and Military DVR systems are in a class of their own. They provide the best performance, reliability, and storage you will find in a digital video recorder for CCTV applications.
Our leading-edge industrial / military grade DVRs are feature-rich, open and interoperable systems that provide maximum flexibility and integration potential.
Industrial DVR Environments:
Border Patrol
Government Facilities
Military Bases
Mobile Command Centers
Penitentiaries / Prisons
Power Plants
Train & Transit Stations
Airports
Amusement Parks
Banking Centers
Casinos
Convention Centers
Major Utilities
Stadiums
Ultimate DVR
Featuring two quad core Xeon processors (eight-way processing), dual redundant power supply, dual gigabit ethernet ports, and hotswap hard drives in a self-healing hardware RAID 5 video storage system, our DVRs are meant for facilities where high availability is critical. Unlike many other makes of DVRs, our DVR systems can display live monitoring at resolutions up to 1920×1200. Viewing a matrix of up to 32 cameras simultaneously at 1920×1200 on a 24″ monitor provides a clearer and more detailed view of each camera compared to most other DVRs which are limited to 640×480 or 1024×768 monitoring. Due to the high availability and fault tolerant storage, performance, and massive storage capacities, our Biyn Industrial DVR System is the choice of major United States defense contractors and has been deployed in active duty by the U.S. military with a great success rate.
Industrial DVR Features
Biyn Industrial DVR Features
Self-healing hardware-based RAID-5 storage system
Optional hardware-based RAID6 available
Separate 120GB RAID Volume for system software
8Gbps Fibre Channel ports for SAN integration
Self-recycling of space as disk space fills
Hot swap dual redundant power supplies
Hot swap hard drives
Rackmount chassis
Hot swap cooling fans
Video watchdog system
User-configurable email notification of RAID status