Military Grade DVRs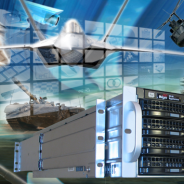 Military-grade DVR deployed around the world
Biyn Development provides advanced DVR/NVR technology for today's air defenses, security and military range operations and deployment.
Biyn Development surveillance technology provides an unmatched ability to capture any and all activity 24/7 365 within a wide range of environments providing unlimited innovation for leading defense and security companies.
Biyn's advanced DVR technology brings together both open interoperability and rugged tough performance to create a system that can operate in harsh environments under numerous conditions. These advanced, heavy-duty DVRs are used to monitor personnel, aircraft, vehicles, and other targets using a broad array of camera types including analog, digital IP, infrared and thermal cameras. Biyn DVRs have been deployed in military environments on both land and sea. Biyn DVRs are the recording solution of choice that support the U.S. Army's HAVs deployed in the Skies over Iraq and Afghanistan ("Eye in the Sky").
Military Surveillance Hybrid Air Vehicle (HAV) using Biyn Development DVRs
The HAV is a ultra-long endurance, stable platform which is a low cost solution which allows the US Military to provide surveillance in today's world of asymmetric threats.
Examples of uses for Biyn Development's Advanced Industrial DVR/NVRs
High-endurance surveillance and interdiction
Counter intelligence
Force protection
Airport Surveillance
Immigration service & border patrol
Coast guard search & rescue
Drug enforcement
Today, Biyn Development is providing the US Military with the most promising surveillance technologies that can help alter the field of surveillance and protect US assets with cost-effective, reliable systems that minimize down time while deployed in the field.
As the importance for effective military surveillance has increased for our military forces, the importance of effective reliable equipment is even more important.
Biyn Development provides accurate surveillance for mobile and fixed-range management solutions for the world's leading defense organizations.
Military Grade DVR Features
Biyn Industrial DVR Features
Self-healing hardware-based RAID-5 storage system
Optional hardware-based RAID6 available
Separate 120GB RAID Volume for system software
8Gbps Fibre Channel ports for SAN integration
Self-recycling of space as disk space fills
Hot swap dual redundant power supplies
Hot swap hard drives
Rackmount chassis
Hot swap cooling fans
Video watchdog system
User-configurable email notification of RAID status